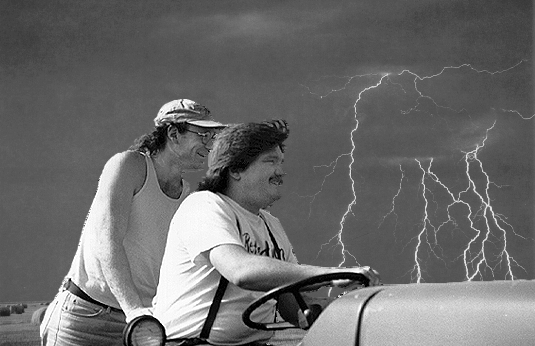 John Switzer
When not riding around on the back of tractors in lightning storms, John Switzer is a Toronto-based independent record producer. He has produced records for Jane Siberry, Andrew Cash, The Grievous Angels, Rita Chiarelli, and The Waltons, among many others. He was voted producer of the year at the 1986 Casby Awards for Jane Siberry's The Speckless Sky album, and was awarded a gold record for that same album. In 1994 The Walton's Lik My Trakteralbum was certified gold. He was voted Best Recording Producer in the 1996 NOW magazine Reader's Poll(!?) and was awarded the 1996 Porcupine Award for Producer of the Year. Touch the Earth and Sky, by Native-Canadian singer-songwriter Vern Cheechoo, released is 1999, was nominated for a JUNO award in the "Best Music of Aboriginal Canada Recording" category and garnered Switzer a "Best Producer/Engineer" trophy at the 2000 Aboriginal Music Awards.
He has also worked in film as Music Consultant and Music Director for Patricia Rozema's White Roomand I've Heard the Mermaids Singing,and produced the song score for Zero Patience,"a musical about Aids" by John Greyson.
Recent recording projects include Spirit and Stone,the 14th album from the venerable Tamarack, and Songs of Work and Freedom from The Brothers Cosmoline, which was nominated for a 2001 JUNO. 2002 saw the release of Fiddlesong by Anne Lederman, and In This Town by Marianne Girard, as well as the JUNO nominated Spirit World,Solid Woodby NWT singer Leela Gilday, winner of three awards, including Best Folk Album, at the 2002 Aboriginal Music Awards. Released internationally in August 2004 by Nettwerk Records, the Switzer-produced album Jimson Weed by Winnipeg band Nathan,was nominated for a 2005 JUNO Award for "Best Roots/Traditional Album.
---
---
John Switzer
141 Bathurst Street Suite 202 Toronto ON M5V 2R2Canada
Tel 416 504 9694 | Fax 416 504 9693